HR master
The view lists all the staff.
Employees can be searched for using the "Find staff" button and transferred to the following mask.
Are you in the Edit - Mode, so new staff can be entered.
In the area address data all known addresses can be entered and edited using the personnel form. Central data maintenance can also be carried out later using this form. Any changes that are made are immediately available to all applications.
The assignment of the data is through ARGON® managed. The optional modules access this data and only define the identification (personnel address, personnel position, department, etc.).
home address
The contact details of the staff are entered here (name, address, email, Internet address and telephone / fax).
Inaccurate address
A pure information field
If parts of the address are missing, ie the address is incomplete, you can indicate this status to your employees by ticking a check mark.
By individually created evaluation programs, it is possible to filter out these "inaccurate addresses" in order to complete them in a targeted manner.
search for employees
If the personnel number is unknown to you, find the address you want to change by clicking the "Search Personnel" button and make the appropriate changes. The search for a specific address can be simplified by using the filter function.
personal data
About the rider personal data internal notes are recorded, which among other things define the position of the employee.
If there are several works of the company, select one from the list and complete the department and the company telephone number: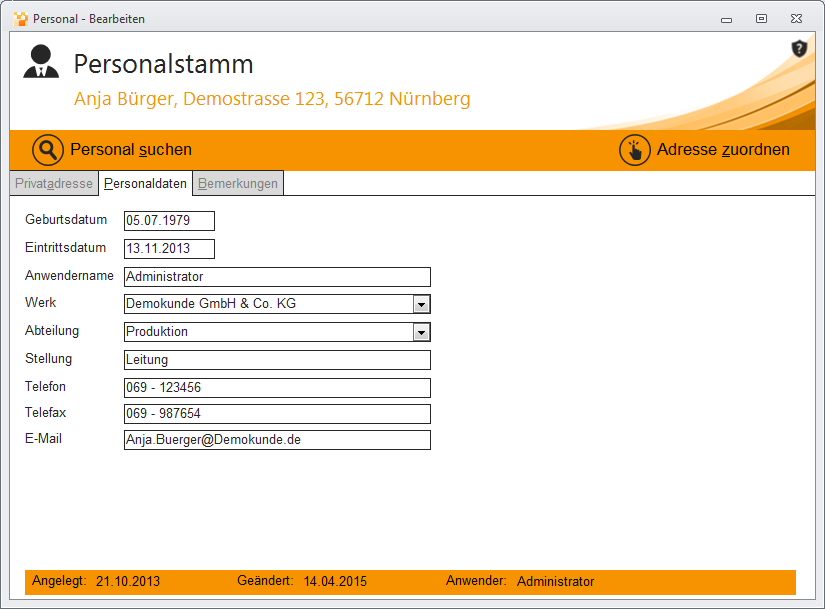 Assign address
About the button Assign address an existing address can be selected and added to the current staff:
Now enter optional remarks and save the data when closing the personnel program.