Countries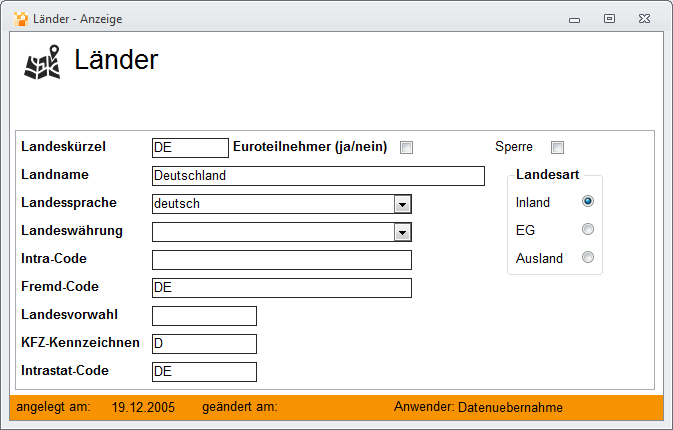 country code
As a rule, the internationally used country code is used here.
Euro-participants
Activation of the field means that this country has acceded to the Euro Agreement.
Landesart
Here it is deposited, whether it is
- your own country of origin
- an EU country (abroad)
or
- a so-called third country (foreign country) which does not belong to the EU is acting.
national language
Enter the valid national language.
Already defined languages ​​are shown for selection via the list.
national currency
The currency valid in this country.
Already defined currencies are shown for selection via the list.
Intra Code
INTRA is a country code of the Federal Statistical Office for all countries. It is used for statistical evaluation.
third-party code
Country code in possibly connected foreign systems.
country code
Enter the internationally valid telephone code here.
License Plate
The internationally valid license plate.
This is considered a pure information field.
Intrastat code
The code of financial accounting that is required when transferring data to accounting.