Choose a tab:
Article master - purchasing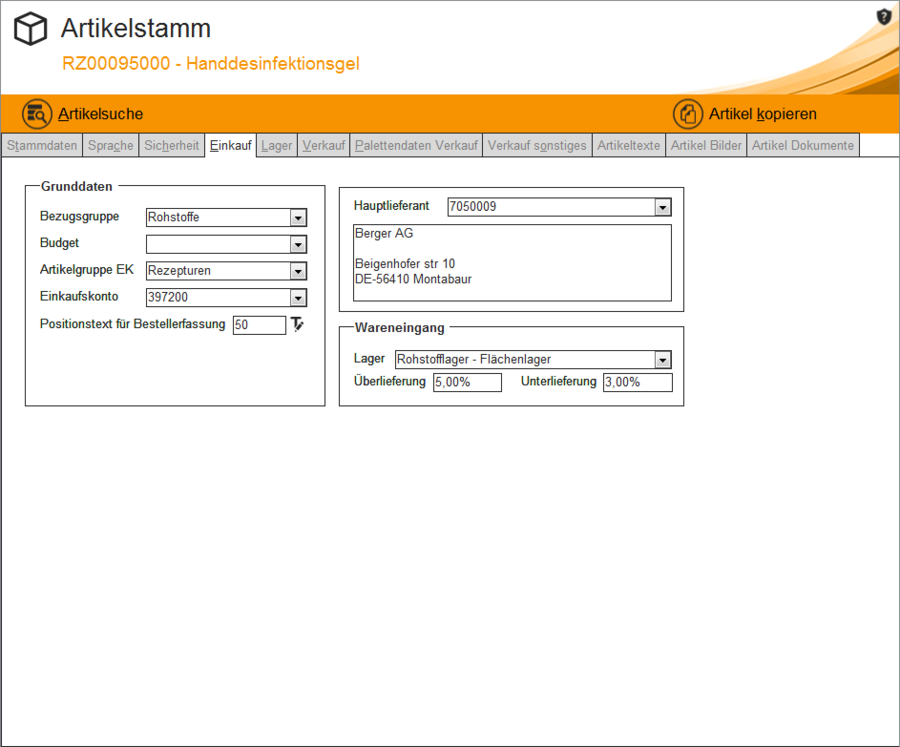 reference group
Here, the reference groups can be formed as generic terms for the article grouping. In the collective order, a request is made for all suppliers of a reference group.
Budget
If there are costs for this article, a selection can be made to which budget these costs should be posted. See also the statement on budgets.
Article group EK
Use to select an article group for the article. For a more detailed explanation of group classification see also "Group Logic"
purchase account
In connection with the data transfer to a financial accounting software, it is determined here to which accounts are posted. The accounts are entered via the menu Master Data / Cost Management / Purchase Accounts.
main supplier
Here it can be stored in the system, with which supplier the article is usually sourced. When ordering for the item, this main supplier is suggested. Locate the supplier of the item from the list. The supplier address is displayed in the form.
Warehouse
This field is used to define in which warehouse the goods receipt is to be posted. At goods receipt, this warehouse is proposed.
Tradition / underdelivery
In this field, the permissible tolerance in percent of the goods receipt for overdelivery or underdelivery is entered.
In the case of "goods receipt from an order" both underdelivery and overdelivery of the goods are possible within the limits defined in the article master.