Create a bill of materials
Define an item as a parts list
Open the article master by selecting the menu item Couching choose. At the beginning, assign a parts list number in the Article number field and select "Parts lists" as the article group. The general explanation of the article master can be found here .
Now it is important the license plate parts list to be able to edit the saved parts list in the next step.
The remaining processing behaves just like the creation of an article.
Edit BOMs
The BOMs program centrally manages all bills of material for the area of ​​production, formulations and raw materials.
header
Enter a name and a short name to identify them later from other programs.
If the "Lock" field is selected, this parts list will initially not be usable until it is released.
Quantities and production data
You can search for existing parts lists or specify your own quantities such as reference, minimum, maximum or setup quantities. Note that internal cracks can occur.
BOM items
Here, all positions are listed again, but now for each individual positions and quantities can be specified.
The Rüstmenge refers to the quantity that is required, for example, to set up a machine before it can start processing.

PI
In order to make ready-made bills of material ready for production, manufacturing instructions can be defined.
Divided into phases, several positions can be determined for each individual phase. These are then processed during production.
You also have the option of importing existing parts lists and adding to them. This saves time and has the advantage that you can switch to parts lists that are similar to other parts lists in terms of production.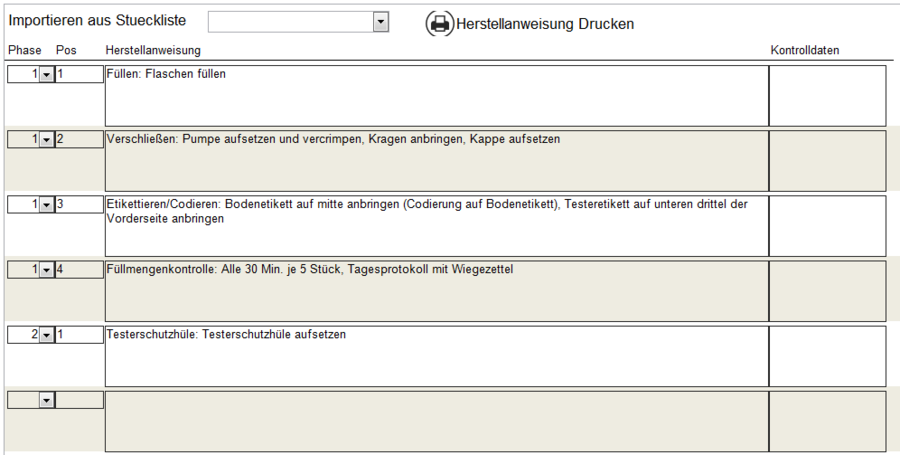 Quality Control
During the compilation and production checks are carried out. These control descriptions are in the tab Quality ControlAre defined.
PI
A description of the control similar to the tab PI.
control data
Possible control values, which result from the PI sheet, can be entered here.

Print withdrawal list
The withdrawal list is similar to the function of the BOM pressure and has pure informational character.
However, the stock can be checked instead of the price:
Pick List Print Version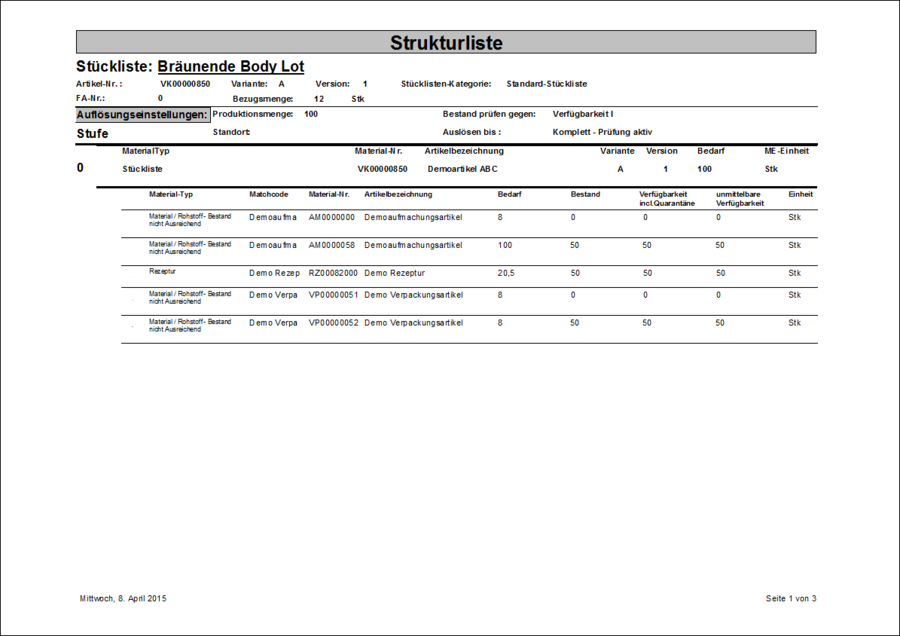 Print BOMs
You can use this to print created bills of material.
Select an existing parts list and confirm the print.
In addition, it can be specified whether prices should be printed: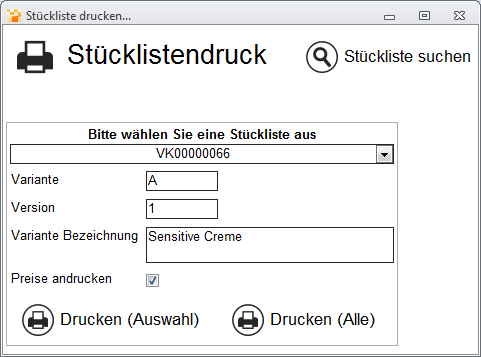 BOM Print version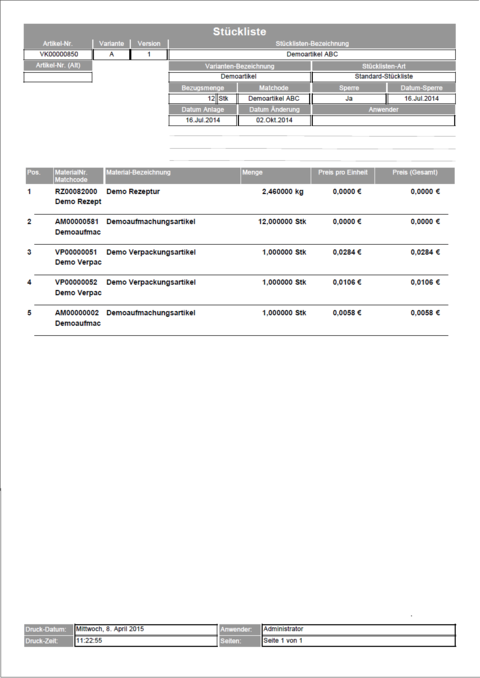 BOM
The structure resolution serves as a pure source of information and offers the possibility of viewing recipes, materials or substitutes within a parts list. In addition, enter a maximum production quantity to narrow down the selection.
Each parts list item can be expanded with "+":
---
In addition, a check can be specified as a filter option:
Legend