warehouse master
In the storage area, the master data is defined, which includes, for example, the storage type or the strategy for storage:
storage indicator
A short name of the camp.
This can be a name or a number for the warehouse.
bearing Code
As a rule, the storage type is used.
Location
Here you assign the warehouse to a location if you manage one or more locations.
bearing type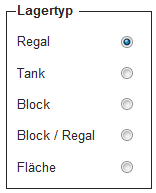 This refers to the nature of the warehouse. With ARGON® You can manage different types of storage.
Putaway Strategy / Outsourcing Strategy
Is influenced by the type of warehouse. Depending on the selected storage type, the individual points (block / shelf), controlled by the program, can be selected
swap priority
The order of an automatic paging controlled by the system
If you carry out a transfer or transfer posting, it is possible to leave the selection of the transfer warehouses to the system. The order of priority that leads to the selection of a debit repository is controlled by the entry in this field. The system starts searching for a warehouse with priority "A".
Blocking amount Capable
Defines whether locked quantities can be stored in a warehouse. If this field is activated, then it is not possible to add blocked quantities to this warehouse; This means that no transfers of blocked goods can be made to this warehouse. Likewise, no goods receipts can be sent to this warehouse whose stock has been blocked.
However, it is possible to lock goods already in stock.
Extended pitches
Used in conjunction with automatic warehouse. Automatic high rack requires additional information such as direction of rotation. The standard construction of the parking spaces consists of three segments XX-XX-XX (shelf / compartment / floor).
Automatic warehouse
Is used individually. Stockbooking programs are carried out in coordination with the manufacturers of automatic high-bay warehouse systems. In automatic storage locations, storage and retrieval are controlled fully automatically. People have no operational storage activity in these warehouses.
Incoming goods warehouse
For goods receipt postings that are defined as goods receipt in the posting type, stocks can only be posted to storage locations that have been released as goods receipt storage.
production warehouse
Indicates that this is the production warehouse where inventories can be deducted by the production orders. Production departures are posted here.
sale warehouse
= Goods, which is led on this camp, can by the module Sales be used (sales warehouse).
= the goods on this warehouse must not be damaged by the Sales be sold.
---
storage areas
In the next step, enter the individual warehouses and enter the storage type:
For a detailed description of the bearings see here: plots.