Enter inventory documents
The inventory count is part of the basic process of an inventory. This is used to record individual positions within an inventory part for which the count lists serve as a reference and their count amounts are entered for each article.
In the best case, the count corresponds to the target amount.
Now choose an existing inventory number. and an inventory decision to continue:
---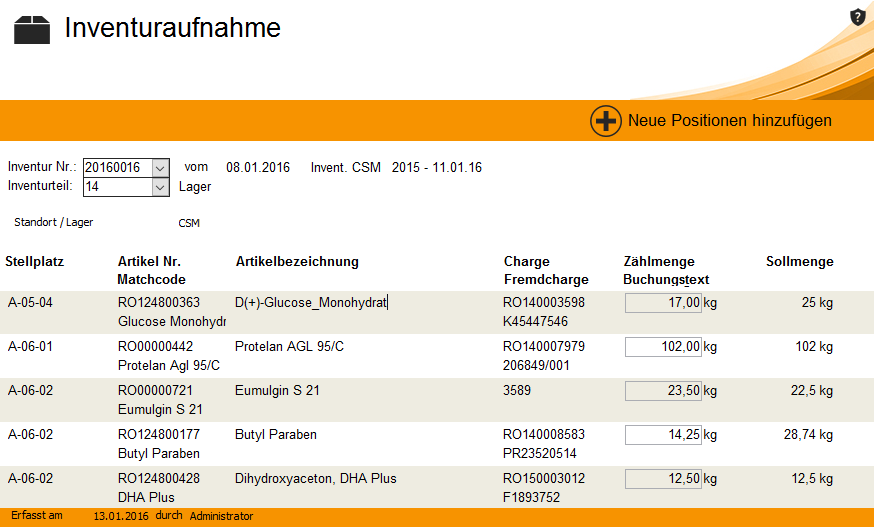 All items belonging to the inventory number are listed. In addition to the parking space and the article number, the target quantity is displayed, which serves as a reference quantity for the "counted" quantity.
Now you can enter the recorded count amounts for each position, as already done in the example above.
When saving and closing the current inventory, the parking space lock is canceled again and then the difference quantity is added or deducted.
Manual inventory
There is the option of manually adding items to the current inventory if this is required. This makes sense if an additional position is required. An article is used as an example, which is to be posted to a parking space during the inventory that is or is to be assigned to the article.
To enter a new position, please click on Add new positions, The following mask opens:
Now an article and a corresponding batch are selected from the selection field and a storage location is specified.
Then select a size class and mark, if necessary, whether it is a break.
Last but not least, the actual count is recorded.
Optionally, a comment can be written for each individual position. Especially for manually recorded positions for inventory it is advisable to write a comment for the future inspection of the inventory. This optional information is similar to a posting text such as from the field inventory transaction.