FA overview
The overview is a useful tool for monitoring and controlling production orders. A traffic light system is used to check whether an order can be started or is already being executed.
Part of confirmed orders have already started and have completed a production run, but not the entire order. A partial confirmation occurs when an order is processed in several stages (production over several days or shifts).
A planned order or active contract will be in the program Load production order is overloaded.
Legend
Edit a production order
---
Post-processing is possible insofar as materials can be exchanged, quantities changed, and batch data and the production period can be changed. When materials are exchanged, a check is carried out to determine whether substitutes are available and whether these may also be used as replacements.
Activate a production order
---
Was a planned order This can be activated thereby and contains further information to the individual materials and their need as well as the availability.
Likewise shortages are displayed in red here. If there are shortages, these must be ordered or posted.
This order is only considered activated, no stock will be reserved or booked.
The order can now be activated as soon as there are no longer any shortages:
Split a production order
---
Splitting generates subsets for production over a defined period of time. If these subsets have been produced, they will be considered as after completion Part Confirmed.
Start a production order
---
If the production order is ready for production, it can now be started over. Again, all individual items are listed here and provide information on inventory and availability. If the order is started, then all stocks for the current release are reserved and posted.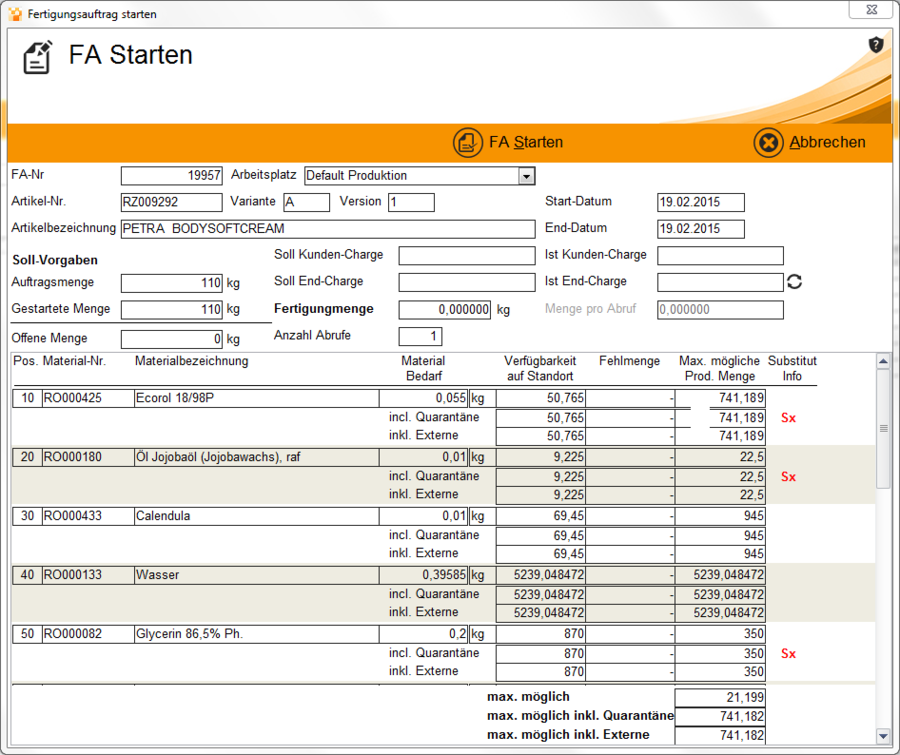 The next step