order control
The order control is the central processing tool in the ordering system.
After completing the registration, it is possible to maintain (change orders, delete items, or create new items) using this program.
The buttons described below only become active after marking (order number) of a purchase order!
To edit: With this button the complete order can be changed later. It opens the order entry with the selected order.
Cancel: This button can be used to cancel the complete order. A confirmation prompt appears asking if the order really should be canceled. After confirmation, a reason for cancellation will be requested and the order will be canceled.
Note: A change or cancellation is only possible, as long as no goods or invoice receipt has been booked on the selected order!
To confirm: About the button To confirm opens a new window to confirm: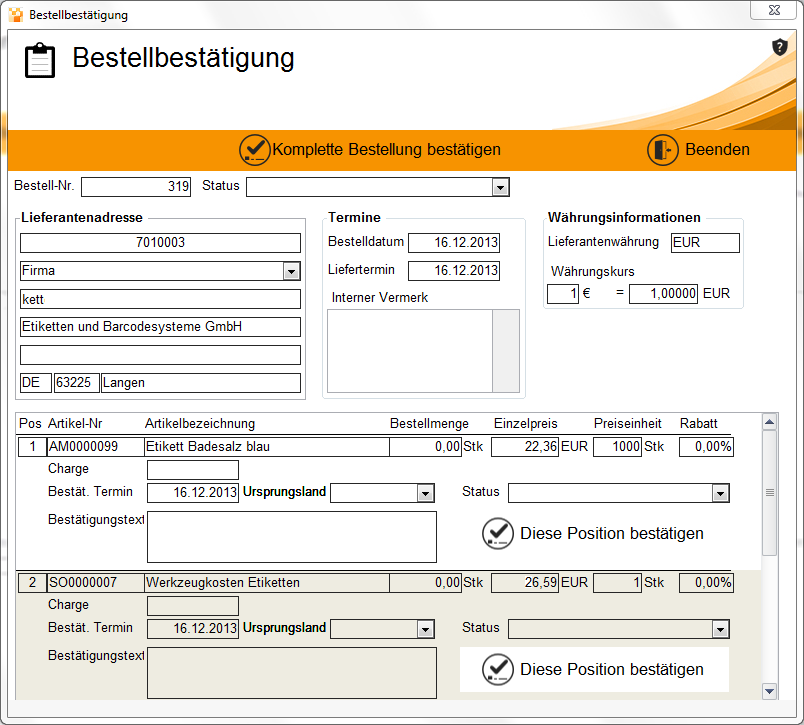 Here the positions are listed again. This process again requires a check of the positions and makes it possible to confirm individual positions.
About the button confirm complete order All items, ie the complete order, are taken into account.